Get ready to learn the best strategies for writing the perfect donor thank you letter!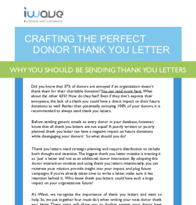 Did you know that 37% of donors are annoyed if an organization doesn't thank them for their charitable donation? This is a great time to ask yourself - are we sending thank you letters?

We put together this easy-to-follow document to ensure you're thank you letters are always perfect!
Download this cheat sheet to learn:
the best way to create specific donor call-to-actions
the do's and dont's of thank you letter writing
how to avoid potentially annoying 100% of your donors