Foundations and private charities are highly-motivated donors.
Many have mandates to share their resources with all kinds of nonprofits. There are opportunities for your organization to establish donor relationships with a major public charity, or secure a grant from a private family foundation, or to connect
with the individuals who support, work at or donate to various foundations. But how exactly do you uncover these opportunities?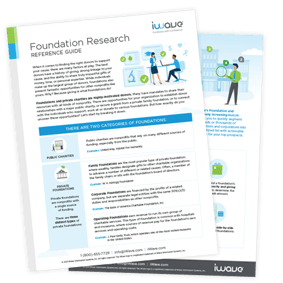 Download the Foundations Research Guide by filling out the form and find out more. Keep in mind, we'll email this resource to you so keep an eye out!