The first of its kind, iWave's revolutionary Foundation and Company Screening enables nonprofits to secure more grants and gifts by accelerating their foundation and corporate research efforts. For decades, foundation and corporate research has been a time-consuming process that involved searching multiple databases one at a time, collecting all the data in one place, and manually calculating ratings for each prospect in order to identify top prospects.
With iWave's Foundation and Company Screening, you can quickly segment hundreds or thousands of foundations and corporations into a prioritized list with actionable insights for your top prospects.
Find out more in the iWave Foundation and Company Screening Guide!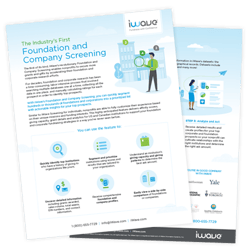 Please note: We will email this resource to you. Make sure you're subscribed to receive this guide!