Data hygiene is critical to successful donor screening. The cleaner your data is going into your screening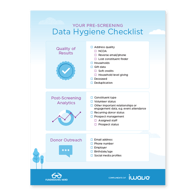 project, the better your results will be. To help you ensure the success of your screening project, Amanda Jarman, President of The Fundraising Nerd, helped us put together a checklist to help get your data ready to go!
Please note: We will email this resource to you. Make sure you're subscribed to receive this ebook!